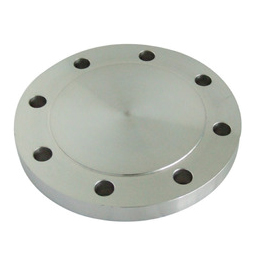 It is Blind Raised Face (BLRF) Flange. Blind flange is a kind of round plate with no center hole but with all the proper bolt holes. It is used to blank off the ends of piping, valves and pressure vessel opening. From the standpoint of internal pressure and bolt loading, blind flanges, particularly in the larger sizes, are the most highly stressed of all flange types; however, since the maximum stresses in a blind flange are bending stresses at the center, they can safely be permitted to be higher than in other types of flanges.
This blind flange is available in various sizes and materials. This flange helps in easy access to a line once it has been sealed. The blind flange is sometimes custom made or machined to accept a nominal sized pipe to which reduction is being made. This reduction can be a threaded reduction or welded reduction. They may often be supplied with NPT fittings to allow pressure test connections to be fitted.
we are engaged in offering BLRF Flanges. Catering to the different requirements of our customer we offer flanges that are high in precision and ensure durability. Known for its reliability, smooth operation, better execution and cost-effectiveness, this is broadly demand in the market. Available in various sizes, shapes and dimensions, these flanges can also be customized to suit the varied requirements of the clients.